Football Club rebuilding through 2023
The Football Club are currently sitting equal 1st on points (2nd on % to Oak Park) with 5 wins and 1 loss so far this season.  A great position to be in during this year of rebuilding our side.   Coupled with the Reserves sitting in top position unbeaten, the Club is looking foward to the remainder of the season.  The Club is functioning well at all levels and with the mid-year ball looming on 15 July there is a great feeling around the club.
Tennis Club Kicking Goals… 
Tennis are still functioning at top pace, but everyone is now anxiously waiting for the works to begin on the new facility…   Keep your eyes open for when it begins.
Tennis have now secured a sponsorship for Strathmore Bendigo Bank towards their points tournaments which is a great boost for the Club and a much appreciated input from Strathmore Bendigo Bank.
All Clubs can benefit via our association with Strathmore Bendigo Bank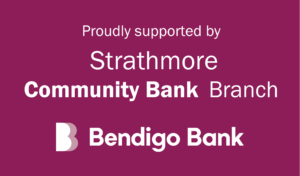 All our Clubs and Members have the opportunity to benefit our Clubs through our association with Strathmore Bendigo Bank…   check out the funding to the club offers available via this Funding Offer Link if you are considering seeking bank finance for any reason.  Give our friends at Strathmore Bendigo Bank a call, or visit, to see if they can be of service to you.
Basketball Works (and Netball) (updated 27/10/22)
Of more interest is the building of a new facility on the Primary School which should, if all our submissions over the last 5 years are heeded, provide a competition standard basketball court of which we hope to gain leasing agreement, and if so, should become an actual playing home for our Basketball Club.  As yet I have not been able to confirm with MP Natalie Hutchins (Minister for Education) that the final plans meet the discussions we have held with her over those 5 years.
In addition to those two points is the near completion of an upgrade to the outdoor courts at the Seconday School which should make them competition standard for Netball.  Yet to be totally confirmed, but if so we will be seeking a leasing agreement to enable their use by our Netball teams.
THE SYDENHAM PARK DEVELOPMENT: AN OPPORTUNITY TO BE MISSED?
Members of the Taylors Lakes Sporting Club group of clubs, the Taylors Lakes Football Club, Netball Club, Cricket Club, Tennis Club and Basketball Club should all be aware of some developments at Council this week.
Members know facilities for our clubs and for all sporting activities in the Taylors Lakes area are in short supply.  You can count them on one hand.  Our organisation has been active since our inception in 1982 in the pursuit of improvements in local community sporting facilities.  Starting with a Tennis Club we now have the group of clubs identified above.  We have had some success as our main oval, turf cricket wickets and top quality tennis courts attest; but we still have a long way to go.  Our Tennis rooms are condemnable, our Basketballers have nowhere to call home and our Netballers do not have a court to play on.
We are working on those issues.  Council have advised there is an allocation for plans for new Tennis Club rooms in this year's budget which should see some building activity in the next 2 to 3 years.  Commendable for this Council, but still a long time since the Tennis Committee of 2012-13 was promised the same thing by Council members.
In 2015, ably assisted by local MP Natalie Hutchins, we commenced discussions with the Taylors Lakes Primary School and the Education Department to be involved as a partner to the school in the building of a competition indoor court suitable for our Basketball Club as well as other indoor activities.  This year we have seen our regular communications to the Minister of Education appear to pay off with the Education Department allocating money towards the building of an indoor facility capable of competition play.  Although no plans have been formalised at this stage, at least there is a glimmer of hope.
We have also made submissions in regards to upgrading other local ovals to accommodate our Cricket and Football teams and to establish courts for our Netball players.
Which brings me to the proposed development of Sydenham Park – that area north of the freeway, adjacent to the golf course and extending to the Organ Pipes National Park.  Our organisation first became involved in discussions on the development of Sydenham Park in 2004 as a response to the Sydenham Park Strategy Plan by Gillespies Consultants.  I have only vague memories of the plan and do not intend to climb into my ceiling for my dusty stored copy, but I recall the plan advised the area be developed largely for sport and recreation with a multitude of ovals and sporting facilities.  Maybe I am just dreaming, but I think that was the gist of it.  Council did not adopt or pursue that plan.
In 2018 Council paid further money to consultants and produced the 2019 Pollen Sydenham Park Master Plan and again our organisation made responses to the proposals put forward.  In particular our Football Club via Hilary Pollock made a substantive submission identifying the ability to create multiple sporting facilities without losing valuable natural space for other forms of recreation. During this period we came into contact with the organisation Friends of Sydenham Park (FoSP) and established that our thoughts and responses on the plan were largely in sync.  We supported their responses to Council and they ours.
In short we disagreed with several of the proposals such as:
Destroying half of the current golf course and rebuilding it in a different location after Council has just spent 25 years getting it to its current state
Evicting long term occupants of the area the Model Airplane Club and sending them who knows where
Demolishing the historic homestead of the Robinsons Farm and relocating it to the carpark of the two ovals recommended near the freeway overpass
Only providing two ovals for multiple sports??
The Football Club Submission and the FoSP Submission can be viewed via these links  –
TLFC – development – sydenham park v0
Move forward to the last couple of weeks.  FoSP contacted our club to be involved in a discussion on the next step of Council.  Both I and Hilary attended the meeting online with members of FoSP, the local historical society, the model airplane club, Keilor Golf Club and a representative of Friends of the Organ Pipes National Park.  Of note was the presence of Bruce Lancashire of Council. 
Pleasingly Council had also seen the absurdity of some of the consultant's proposals.  The Golf Club is not being destroyed- big Tick , the Model Airplane Club could stay – big Tick , the historical homestead building is to be left on its original site and hopefully restored – big Tick , but the sporting facilities still remain at two ovals.. – Cross . 
The meeting agreed this was an opportunity for Council to provide some of the facilities so desperately needed in our area.  Our major needs are Netball courts, Football Ovals, Cricket pitches, etc..   This is the time.  This is the OPPORTUNITY…  The meeting determined to ask Bruce as a Councillor to move a motion to progress the plan with the inclusion of at least one more oval and preferably allowances for more.  We then spent time over the next few days contacting our Ward Councillors and other members of the Council rallying support for the amendment to give us that OPPORTUNITY.
The Council met recently to vote on the progression of the plan and the amendment motion to include a third oval was put by Bruce Lancashire, and supported by Councillor Ranka Rasic as well as two other Councillors.  The motion was lost.
Our issue being if the plan goes ahead as is, the inclusion of further sporting facilities will become progressively difficult given other infrastructure such as walking and biking tracks that are being planned.  The OPPORTUNITY will be lost.
It is our belief the area can support further sporting facilities without substantially impacting on the overall park.  The area suggested, to the left of the overpass and road to the golf club, has been farmed land since 1860 or before and has been farmed up until only 40 years ago.  It is not in a native condition and has not been so for over 130 years.  It's value as native parkland is limited, it's value as a community sports facility is immense.
We need facilities.  We need Council to take this opportunity to provide them.  There are very few open areas left in Taylors Lakes that can provide the space needed.  Not too long now before any of the remaining open areas will be gone.
If you agree that our area needs more facilities for our local sports people, for our children and our grandchildren, and their children to use for physical endeavour, for health and community wellbeing you need to let our Council know.
John Rumbelow, Secretary. Taylors Lakes Sporting Club Inc.